The Points Guy
This post contains references to products from one or more of our advertisers. We may receive compensation when you click on links to those products. Terms apply to the offers listed on this page. For an explanation of our Advertising Policy, visit this page.
A-plane, B-plane, seaplane.
A terrible joke. I know, and I'm sorry (not that sorry).
I've always thought seaplanes were exceptionally cool, ever since I was a little kid in Brooklyn watching them leaving and approaching the East River.
There's just something exceptionally fun about seeing a plane flying low carrying pontoons that are almost as big as the fuselage itself, with the ability to go where other aircraft can't, with a unique mix of grace and clumsy awkwardness.
Want more airline-specific news? Sign up for TPG's free new biweekly Aviation newsletter!
Modern seaplanes (technically "floatplanes") are a far cry from the Pan Am Clipper flying boats of an era gone by, but there's still something about them that's just cool, and useful; seaplanes arguably make the Maldives viable as a vacation destination, for instance.
Now, I'm excited to fly on a seaplane a bit closer to home.
Tailwind, a small scheduled shuttle and charter operation based in New York, this week announced new seaplane service between Manhattan's New York Skyport, on the East River at 23rd Street, and Boston Harbor.
The carrier typically runs shuttle routes from Manhattan to summer hotspots on Long Island — East Hampton, Shelter Island and Montauk — as well as Bridgeport, Connecticut — using a fleet of eight-seat Cessna 208 Caravan turboprops with an amphibious configuration, meaning they can land and take-off on both paved runways and water. For charters, the airline can also arrange for other types of aircraft.
Tailwind will be the first airline to launch seaplane service between the two cities in modern times, after Cape Air pulled back on plans that it had set in February 2020, which were derailed by the COVID-19 pandemic. Both Cape Air and Tailwind have been working on launching seaplane service between the cities for more than half a decade. Tailwind won final approval from the Federal Aviation Administration earlier this month.
The airline will start with two round-trips per day on Aug. 3, before increasing service to four daily round-trips on August 23. The seasonal service will run through November, and resume in March.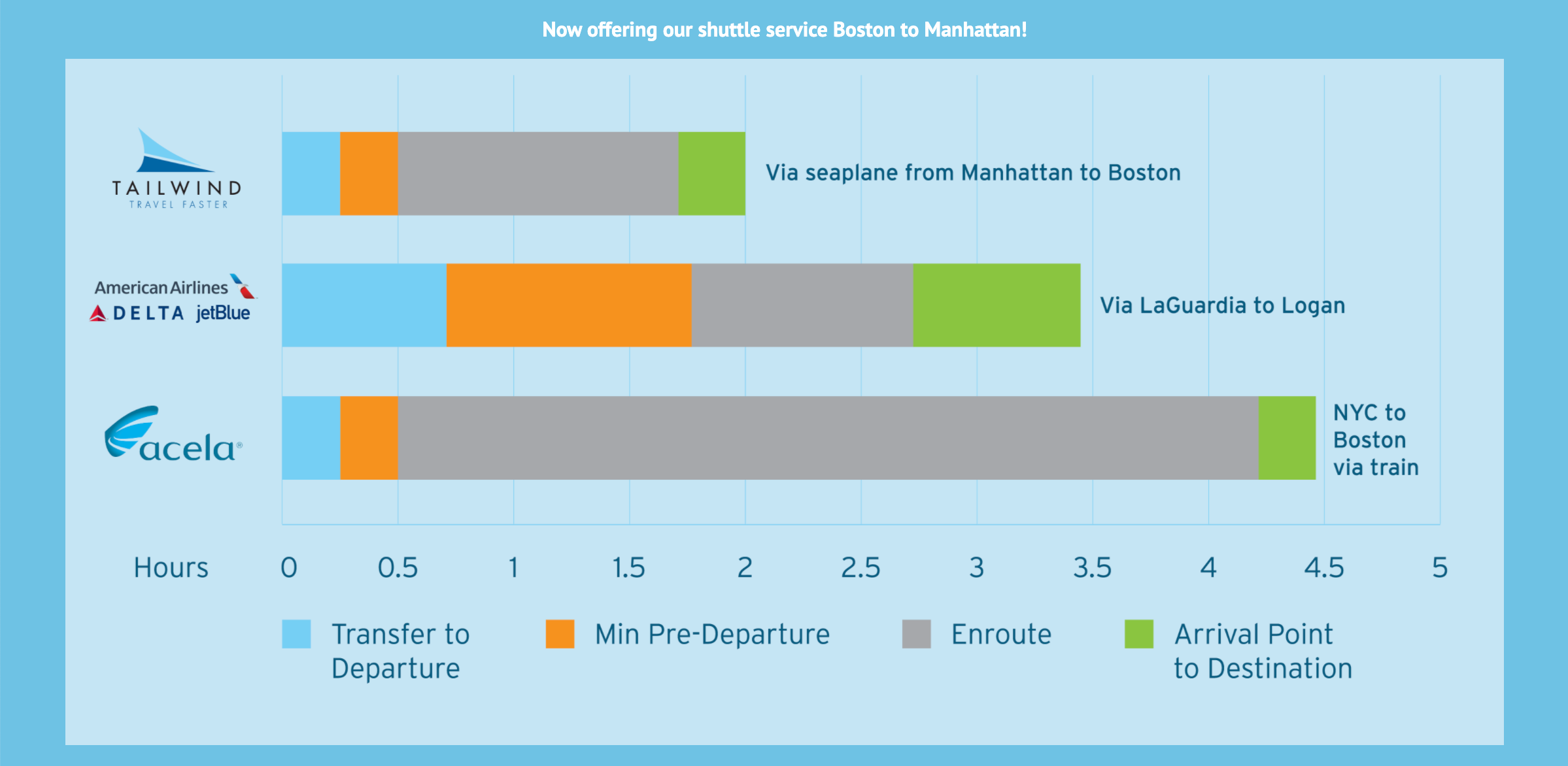 Flying time will be about 75 minutes, with a total of fewer than 90 minutes "dock to dock," the Boston Globe reported. That beats the fastest train option — about three and a half hours on the Acela — and while the flying time is longer than on the regular airline shuttles, which are blocked at 80 minutes, the seaplane will eliminate the airport travel time.
On the Boston side, the flights will dock remotely near the East Boston shoreline, with a 7-minute water taxi connecting passengers to Fan Pier
The service is mostly geared towards business travelers — flights start at $395 one-way, and go up to as much as $795.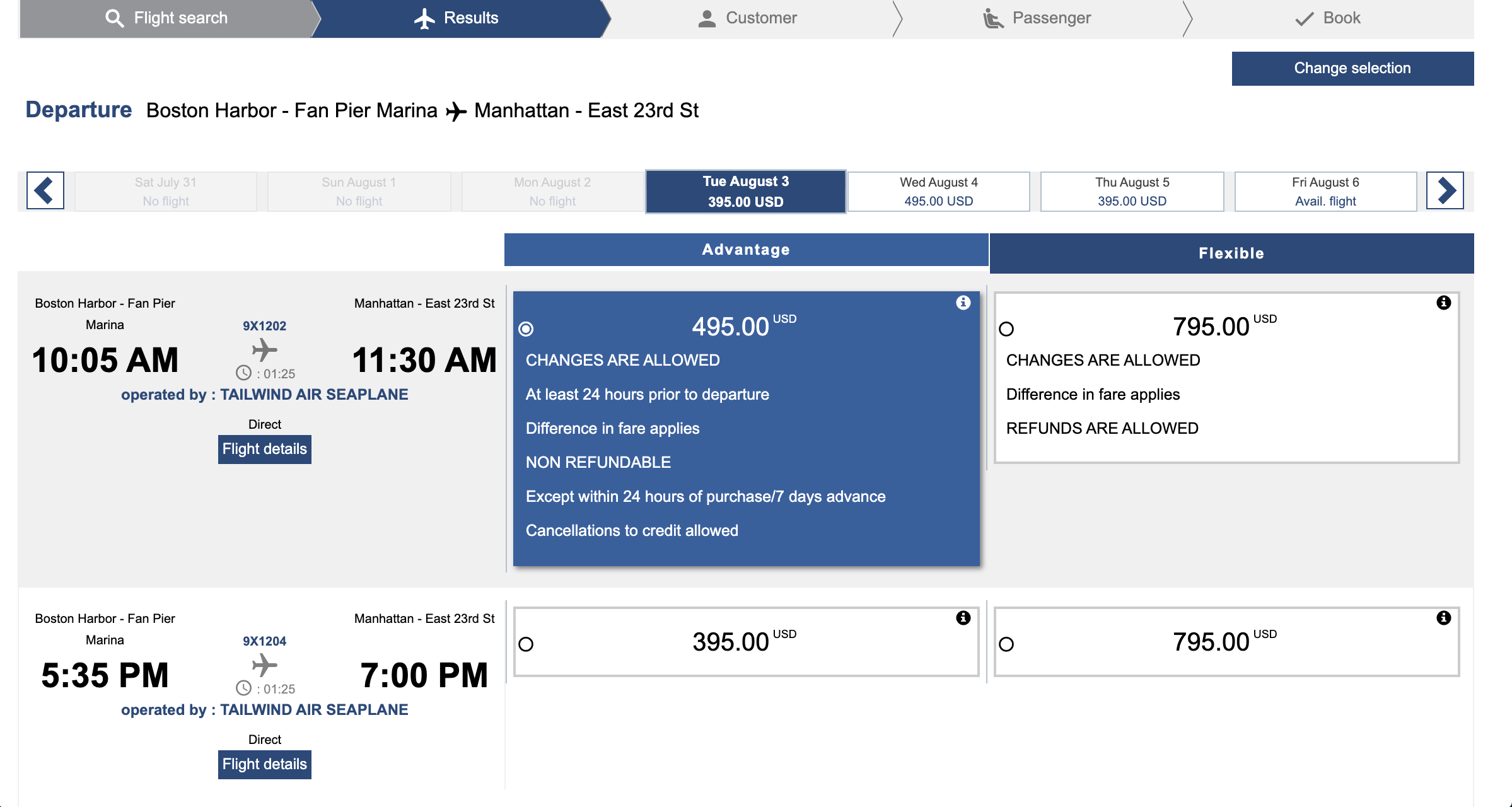 I lived in New York for most of my life but recently moved to Boston, so the new service is particularly exciting for me — even if it will be prohibitively expensive. Still, more options are always a good thing and being Boston-based, I'm the perfect candidate to check out Tailwind's first flight for TPG when it launches in August.
Plus, I'll finally get to be on one of those seaplanes in the East River that I used to watch as a kid.